Serie A: Napoli v Juventus
Date: Sunday, 2 April  Kick-off: 19:45 WAT
Juventus striker Gonzalo Higuain is set to return to former club Napoli for the first time following his record £75m move last summer.
The Argentina international was called a "traitor" and "mercenary" by Napoli fans after their star player left the Serie A runners-up for the champions.
Higuain, 28, scored a record 36 Serie A goals as Napoli finished nine points adrift of Juve last season.
He scored the winner when the sides met in Turin earlier this season.
"He made a professional choice to join Juventus and that should be respected," said manager Massimiliano Allegri.
"It's no surprise that once he was adored by Napoli supporters and now that he plays for Juve he isn't – that's football."
As well as scoring in October's reverse league fixture, Higuain also netted in Juve's 3-1 first-leg win against Napoli in the Coppa Italia semi-final.
He is also poised to return to Napoli for the second time in four days when Juve go to Stadio San Paolo for the second leg on Wednesday.
Leaders Juve are 10 points clear of third-placed Napoli ahead of Sunday's league game, with second-placed Roma eight points adrift of Massimiliano Allegri's team.
Higuain has scored 19 goals in 29 league appearances this season, but has only netted once in his past seven matches.
How Napoli fans reacted to Higuain's departure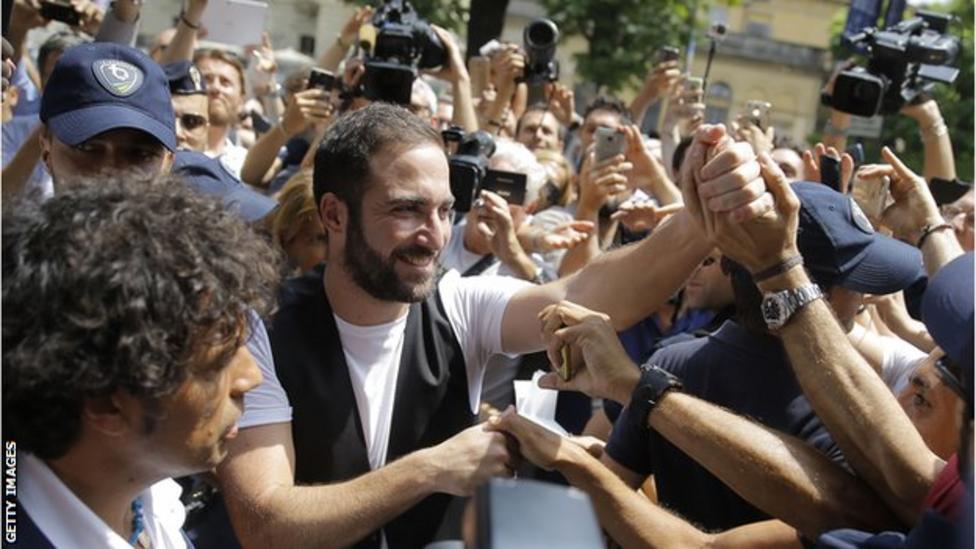 Higuain received a hero's reception when he was unveiled in Turin. The Napoli fans had a different opinion on the move…
"He prefers the money to our love," read a headline in Naples' Il Mattino newspaper after Higuain's transfer in July.
"Neapolitans were met with betrayal this summer," said Napoli president Aurelio de Laurentiis.
"Higuain's brother told me in February that he wanted to leave because there were no other stars in our squad besides him."
When the transfer was announced, Napoli fans publicly threw their Higuain shirts, banners and scarves into dustbins and set fire to them.
Festive figurines of the player, sold over the previous Christmas, were adapted by local artisans on Naples' famed San Gregorio Armeno street to feature messages reading 'I'm a traitor' and 'I'm a mercenary'.
Perhaps the most damning indictment of how much the Napoli fans have turned on their former hero can be seen outside the club's San Paolo stadium on matchdays this season, where enterprising vendors are selling toilet paper with Higuain's image printed on it.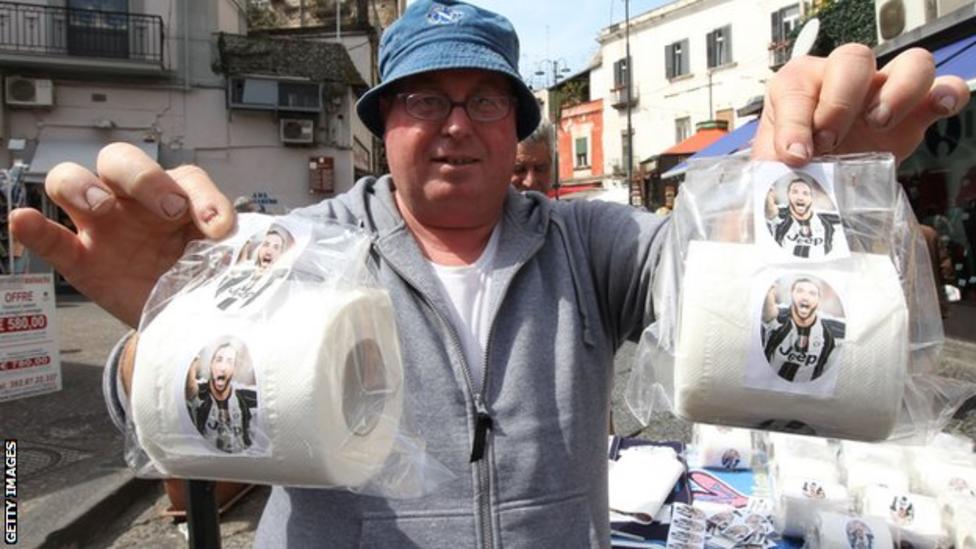 Source: BBC Sport